Phosphor Bronze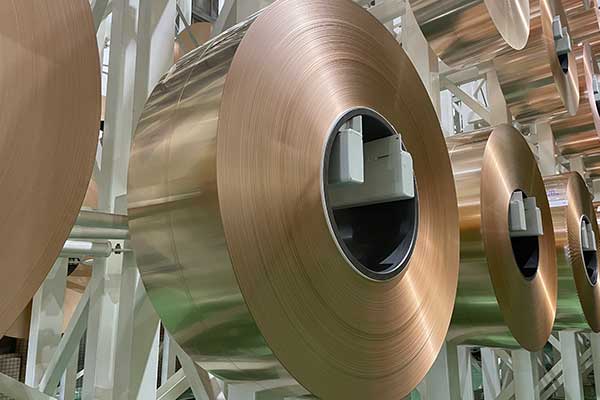 Phosphor Bronze
Phosphor bronze is an environmentally friendly alloy composed mainly of copper with the addition of tin, which is deoxidized with phosphorus and contains no harmful elements.
Phosphor bronze is used in a variety of fields, mainly in electronic device components, because it has all the characteristics of non-ferrous metallic materials and excels at each one of them.
Excellent elasticity
Good bending workability and drawability
No seasonal cracking or hardening with age
Easy plating
High wear resistance
High strength
High electrical conductivity
Non-magnetic
High resistance to chemical corrosion
Easy soldering
Phosphor bronze is used for components requiring electrical and mechanical properties in rapidly evolving industries such as electronics, telecommunications, automatic control equipment, and automobiles.
Phosphor bronze is used through stamping, bending, drawing, etc. according to the application.
Phosphor bronze requires high reliability and excellent workability as a non-magnetic, electrically conductive, and springy material, with the development of miniaturized, high performance and high density components.
As a specialized manufacturer of phosphor bronze, we provide the highest quality phosphor bronze to meet customers' high requirements and new demands, through rational production and the introduction of world-class equipment.
Electronics
Various connectors、Lead frames、Lead terminals、Transistor terminals
Electrical
Various relay contacts and switch contacts、Rotary switch slides、Circuit breaker contacts、Fuse clips
Automobile
Bearing frames、Hydraulic pressure caps、Packing、Bearings、Clutch plates、Electrical parts
Others
Various bellows、Sliding plates、Blade materials、Springs、Anti-corrosive chemical machinery parts、Diaphragms
Melting and Casting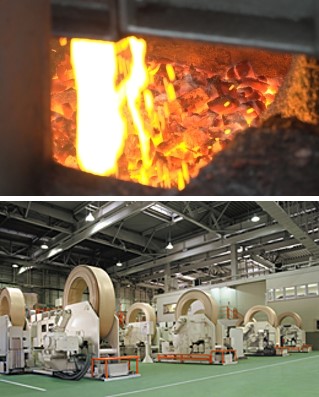 The Highest Purity by Phosphor Bronze Specialists
We use the latest analyzing equipment to prevent contamination by any other metal components at the stage of material selection to cast high-purity phosphor bronze.
The chemical composition is also accurately adjusted by real-time analyzing on the furnace.
We cast the world's longest phosphor bronze slabs, by continuously winding 400 mm wide slabs automatically into a coil through computer control.
Rolling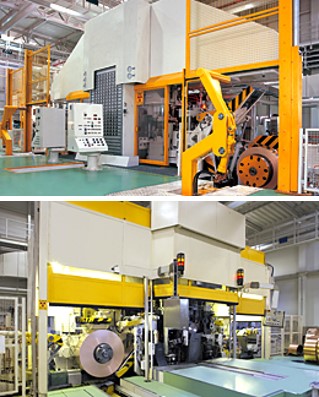 The Highest-Accuracy Intermediate Products and Finishing Products.
The rolling mills in the upstream process enable the production of highly accurate intermediate products through a powerful hydraulic screw down device for slabs after casting and homogenization annealing, etc., through an electronic thickness controller that instantaneously responds to and controls thickness.
The rolling mills in the downstream process have world-class dedicated machines for phosphor bronze that switch equipment specifications according to thickness and alloy, achieving stable quality through contactless X-ray thickness measurements and thickness/shape controls.
All of the rolling mills are equipped with precision rollers polished with Computer Numerical Control (CNC) automated grinding machines to fine-tune the surface quality.
Annealing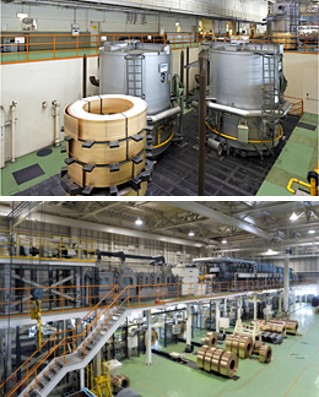 The World's Most Advanced Floating-Type Continuous Annealing Furnace
The bell-type annealing furnaces have a completely airtight structure. High thermal uniformity under the 100% hydrogen atmosphere enables the material surface to be finished perfectly bright.
The floating-type continuous annealing furnaces, developed for non-ferrous metals, achieve high productivity by simultaneously performing degreasing, pickling, brush cleaning, and rust prevention during annealing.
In addition to the perfect brilliant luster of the product's surface, the levitation heat treatment and cooling process by the powerful convection blower in the furnace enables the grain size to be refined.
Slitting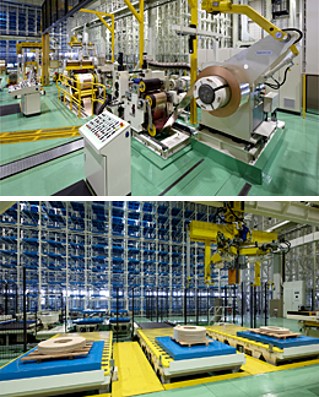 Equipped with Slitters for Small Lots and State-of-the-Art High-Speed Slitters
We are equipped with both slitters for small lots and state-of-the-art high-speed slitters, in order to meet customer needs flexibly.
The high-speed slitters are specially designed to support the length and width of our products, as well as the winding methods to meet customer specifications.
The cutter stand is controlled by CNC(Computer Numerical Controls) to maintain the blade's optimal cutting conditions according to the thickness, width, and strength of the product achieving high slitting accuracy and an optimal cutting surface.
Slit products are stored in the automated warehouse via the automatic packing machine and are shipped to customers.
Products
Back to Business